Thai Chef Restaurant was founded in 1999 by Natttachai Changrattanachaichok, also known affectionately as Chang. It began humbly enough in Napier as a weekend food caravan business serving authentic Thai dishes. Regularly attending the local markets, Chang started garnering a loyal following. Deciding to take this success a step further into full time work, Chang's caravan took up regular residence outside his house on Kennedy Road in 2000.
High visibility and its location close to the Deco City Motor Lodge ensured success! Soon, with the help of fellow businessman Clinton Green, Chang sought to find a more permanent and less mobile location where the Thai Chef's Restaurant could be born. In August 2001 his first restaurant was opened at 14 Maadi Road in Onekawa.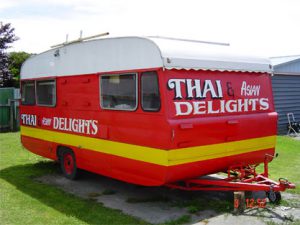 The Maadi Road restaurant proved a hit. As one of Napier's first Thai food restaurants the uniqueness of its fresh flavours and authentic taste proved a real draw for local residents. The success at Maadi Road was so clear that it soon became apparent that a larger venue was required. So, with the help again of Clinton Green the hunt was on for a new location.
In February 2002 a site was found. The new Thai Chef's Restaurant opened on Taradale Road at its present location, seating up to 140 people. So successful was it that it earned the label of "Thailand's Brand" in 2005 from the Ambassador of Thailand. In 2006 it earned another prestigious award — "Thai Select", given by the Royal Thai Government for restaurants it considers best reflect the high quality standards, hospitality, atmosphere and authentic tastes of Thailand. Restaurants that received this honour are hand-picked during random, secretive visits. Only two other New Zealand restaurants received that honour in 2006! See all our awards here. 
The success of the Napier restaurant proved there was a desire for the brand, so it was only a matter of time before Thai Chef's would branch out. In 2007, loyal patrons David and Ros Harley-having retired the previous year to the Far North-expressed a desire to see a Thai Chef's Restaurant open in Mangonui. Retirement, it seemed, was not for them after all, so with the support of Chang they became the first franchisees of the Thai Chef's brand. Thai Chef's Restaurant opened on Waterfront Road in Mangonui, January 2008.
This was not to be the last location addition! In June 2008 Chang opened Thai Chef's Restaurant in Wellington, bringing his authentic Thai cuisine to the capital.
As the Thai Chef's story evolves, we welcome you to join us in an authentic dining experience at any of our locations. If you are interested in expanding the brand yourselves or in joining any of our teams, we would welcome your interest. Meanwhile, enjoy our hospitality!
The Thai Chef Timeline: 
1999    –          Thai Chef's began in Napier as a mobile Thai food caravan servicing local farmer's markets
2000    –          Caravan becomes a regular fixture on Napier's Kennedy Road
2001    –          First restaurant opened on Maadi Road in the Napier suburb of Onekawa
2002    –          Thai Chef's Restaurant moved to its current location on Taradale Road in Onekawa
2005    –          Earned the prestigious award of "Thailand's Brand" from the ambassador of Thailand
2006    –          Presented with the award "Thai Select" from the government of Thailand
2008    –          Thai Chef's Restaurant opens its first franchise in Mangonui
2008    –          Thai Chef's Restaurant in Wellington opens
2009    –          Awarded "The Pride of Thailand" from the Thai National Food Institute
2011    –          Thai Chef's Restaurant in New Plymouth opens
2012    –          Thai Chef's Restaurant in Parnell, Auckland opens
2017    –          Thai Chef's Restaurant in Titirangi, Auckland opens